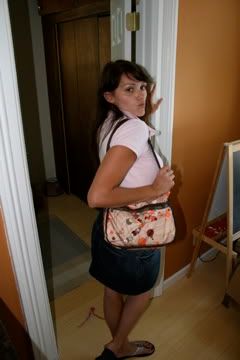 i got this super cute bag from fran (not to be confused with franNY, and don't ever call fran "franny." you've been warned. i am not liable for the travesties that may befall you from this point on.) anyway, fran and i had a wonderful time frolicking throughout europe, but we did however, spend a lot of time in airports being that our main method of getting from here to there was ryan air (stop the limerick jokes, now.) anyway, we would occasionally pick up a fashion or gissip mag and one apparently had a large spread devoted to le sport sac bags. i commented on how i wanted one really bad and we then flew off to bratislava or dublin or somewhere.
for christmas, craig's family really gets into the gift giving thing and good lord almighty if you don't have an explicit list of everything you could possibly want in all price ranges. this goes for both his dad and step mom (from whom i have received dvd players, computer scanners, big buck gift certificates, etc. this, however, is NOTHING compared to what my sister receives from her in laws. i am pretty sure new cars and trips to europe come into the picture now and then.) anyway, craig's mom is no exception to the gift giving glee. for my list to her, i remember putting an $80 le sport sac on my list. but when she went to buy it, all of them had been given good homes because of their sheer cuteness. she felt bad that she missed the small window of opportunity and i ended up getting a lot of cash from her instead.
after fran and i returned to the states, i had the feeling that fran might not want to see me ever again (at the end of two weeks together, we were a little on edge and something sent us over said edge. it had to do with a ride back from o' hare, a few english £'s, some chips, and a monster truck driver named george with a mohawk to rival travis barker's, any day.) she was not mad for too long though, just busy being that between thanksgiving and christmas eddie bauer on michigan ave tends to get a little swamped. anyway, we were not able to see each other at christmas but one of our friends from chicago came to visit craig. he brought with him "uh, something fran sent, maybe a christmas present or something." it was a shopping bag from nordstrom's that he handed over. THERE IT WAS. MY LE SPORT SAC. i called her immediately and gushed gratitude. "oh yeah," she said. "don't you remember in that gossip mag? the one with the tell all about posh and becks? well, yeah, there was an ad in there and you said you wanted one."
now i remember why you are my best friend, fran.
so here is where the story gets sad. i have been having issues with my le sport sac for a while now. some of the seams are ripping out and i have been avoiding sending it in because i love using it so much and i literally get one or two comments about how cute it is.. EVERYTIME I TAKE IT OUT. it is kind of like that commercial where the lady comments about "how cute they are" (referring to this other lady's twins) and she is like "oh yeah, i have them in lime green, too" (referring to her shoes.) but it happens to me in reverse.
check-out girl at target: whoa. soo cute!
me: i know, it is weird how much she looks like her dad...
check-out girl at target: no i mean the bag? where'd you get it!?!?!!
and i swear that this purse has caused about 5 other people to run immediately to the store to purchase one. my other best friend, ingrid, keeps asking me if i don't mind that she and her twin "copied" me. my friend, lindsay "just found one" laying around. never has one fashionable item caused such a wave in among my circle of friends. (the debate over gaucho pants, however, did cause a considerable stir.)
anyway, i have to send it in for repairs and i am not sure what i am going to do without it. so, here's to you, le sporty, i will miss you while you are gone. i guess i'll just stuff everything in a target bag till you get back.